Welcome
Normal runs are on Wednesday evenings meeting at 18:30 outside the Lancing Impulse Lesure Centre.

The core principles of returning to group sessions
A Covid secure environment has been created, allowing groups of 6. This means 1 Run Leader and 5 additional runners. This may be able to rise in the future dependent on Government and EA Guidelines.
A qualified Run Leader must be present on all group runs.
Social distancing (2m minimum) must always be adhered to, by all members.
This is a trial and the club may change the guidance or pause group runs at any time.
Booking to attend on a Wednesday night
Unfortunately, due to the restrictions on numbers and leaders available we may not be able to cater for everyone who wants to run each week. We have looked into this and tried to come up with a fair way for all members:
We will be using Eventbrite for members to book into groups on Wednesday nights. Eventbrite is an established and popular event online booking system; it is free and easy to use via the website or the app.
Each week group runs will be published to members via email as events. All events will be found at http://lancingeagles.eventbrite.com.
Event booking will open every Wednesday evening for the following Wednesday.

Only 5 people plus 1 Run Leader may register to attend for each run group during the trial period. We expect to be able to run 3 or 4 groups each week depending on Run Leader availability.
Events will be on a first come first served basis.
Members must book into the event to attend. If a member turns up to run who hasn't booked, they will not be allowed to take part in the session.
All members will have to confirm they have no COVID-19 symptoms or had a positive test in the last 14 days. They will also have to confirm that they comply with the COVID-19 guidance stipulated below.
If a member books into an event but does not turn up on two occasions they will not be able to book further sessions until a discussion with a club official.
All sessions will be held at the same date and time must enforce Covid / social distancing guidelines.
Runs will commence at the Lancing Manor (meet outside on the grass and take different routes for each group).

We hope members will be fair and recognise that they may not be able to run every week and therefore they will let others book before them. If anyone has trouble booking please do let us know.
Guidance for all members for all sessions

No one should attend any sessions if they have meet any of the following conditions:

They have, or live with someone who has, any symptoms of COVID-19

They have, or live with someone with, a confirmed case of COVID-19.

They have come into close contact with a confirmed case of COVID-19.

They have been advised by a public health agency that they have had contact with a diagnosed case of COVID-19.
If any member develops a high temperature or a persistent cough whilst on a session, then:

Group to return to start location immediately and activity to be abandoned.

Avoid touching anything and remain 2 metres away from all others.

Cough or sneeze into a tissue and put it in a bin, or if they do not have tissues, cough and sneeze into the crook of their elbow.

They must then follow the guidance on self-isolation and not return to any activity until their period of self-isolation has been completed.

Notify Club Welfare Officers / Covid Coordinators
All members should read the EA guidelines published on their website - https://www.englandathletics.org/guidanceupdate

All members should wash their hands prior to attending any group sessions, use hand sanitiser (please provide own) before and immediately after running, and wash hands thoroughly on returning home after the session.

If driving please park where possible away from other parked vehicles or be aware of other people entering / exiting their vehicles. Maintain 2m social distancing at all times.

Members should stick to the start and finish times – do not arrive early and do not hang around afterwards. Return home straight after the session finishes.

Arrive at the club session ready to run.

Members should travel to and from the session separately from others who are not part of their household.

Members should bring their own drinks / fuel as necessary and do not share with anyone who is not from the same household.

Leaders will consider session warm ups in wide open spaces, moving away from the start location if necessary.

Primary method of protection is social distancing, this means everyone keeping 2m + away from others at all times.

All Run Leaders to remind members at the start of the activity and throughout the activity that social distancing is essential, and compliance is not negotiable.

If anyone breaks 2m social distancing they should separate as soon as possible.

Members should give way to the public at all times. This may involve stopping and waiting, or stopping and safely crossing the road. Club members should be courteous to others, as always.

Members must be aware that they are representing the club and not to be anti-social. Please refrain from spitting.

If gates need opening have one person open and hold the gate for the whole group whilst remaining socially distant.

Toilets / changing facilities will not be available.

If an injury occurs ensure that all group members continue to observe social distancing. If help is required, then limit the amount of close contact and touching to a minimum. Welfare Officers must be notified as soon as possible and within 12 hours.

Welfare Officers should be notified of any incidents as soon as possible and within 12 hours of the event.

A register will be taken at all group sessions, please ensure your contact details held by the club are up to date.

If a public health official requests the contact details of members for the purposes of track and trace, the Welfare Officer will provide those to the relevant authorities.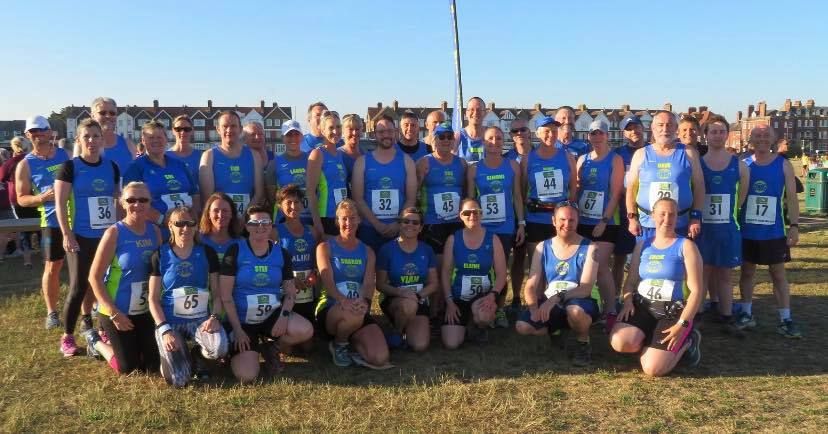 Introduction
Lancing Eagles is a small friendly informal democratic club catering for runners of all standards formed in 1986. Its purpose is to support runners whether they are running for fun or are interested in competing in races for cross country or road racing. Lancing Eagles is affiliated to Sport England and West Sussex Fun Run League.
Find out more about the club here
Membership Details:
Club Membership £15 (or £10 if paid before 30 April) - Membership Form
New members joining this year pay a discounted price of £10
England Athletics Affiliation: £15